CN3005:
Canine Anatomy & Behavior Precourse Distance Study
Date: Ongoing (Distance Learning)
Cost: $95
Duration: Approx 100 hours
Summary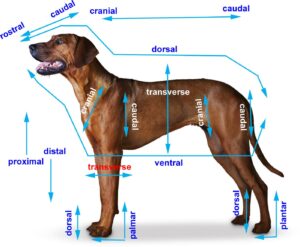 This online course is open to anyone wishing to broaden their knowledge of veterinary terminology, behavior and the musculoskeletal system of the dog.
If you are planning on attending our  CN3000 Canine Body Worker Certification course, this is required pre-course study to prepare you for the certification course.
Learning activities and exercises are included throughout the manual. We also have a private Canine Anatomy Facebook group site which is limited to registered students. You can ask questions, see shared resources and communicate with your classmates. Once you are registered you will be sent an invitation to the group. Debranne Pattillo and Caninology Instructors will be monitoring the group should you have any questions directly in regards to the course material.
This course has recently been rewritten and the new muscle illustrations in the manual are fresh and original, showing more muscle layers than most published anatomy books. This course takes approximately 100 hours to complete.
This is a self-paced course. There is no need to be in front of a computer at a scheduled time and you have one year from the date of registration to request the exam. Once you have requested the exam you have one month to open the exam link. Once you open the link, you have four hours to complete the exam.
Outline
Canine communication and behavior
Dog handling
Veterinary and anatomy terminology
Directional terms
Bony landmarks and surface markings
Skeletal system
Joints
Movement and the canine muscular system.
Prerequisites
Participants must be at least 18 years old to register for this course, and must be a high school graduate or have high school equivalency reading skills. Those who are not high school graduates need to take and document the passing of an"Ability to Benefit" test. Please contact office@eli-us.com to request the test.
*This course is required for the CCBW certification. While the exam does not need to be completed prior to attending the CN3000, you must be extremely familiar with the skeletal system.
Required Materials
Required Text:
The complete 145-page course manual is sent via WeTransfer to download directly to your computer to save or print.
Additional Requirements:
A computer and internet access is required for students to download the text and documents delivered via WeTransfer as well as view suggested links and videos. There are Additional Learning Activities within the manual which are required components of the course, not optional. While a Facebook account is not required, students have the opportunity to access the same documents on the Facebook group established specifically for this course.
Instructor
This is a self-guided online course – no instructor is assigned.
Register
Your course documents will be available via download within 24 hours upon receipt of your registration. Documents are sent via WeTransfer to the email address on your registration form, and download links are active for 7 days.  Be sure to check your SPAM folder if you do not see the documents. You will also receive an invitation to join the Facebook group specifically created for CN3005 students.