Textbooks
Anatomy of Equine Bodywork: The Equinology® Approach
by Debranne Pattillo, MEEBW, (hon) MSc
$159 + tax, FREE SHIPPING (within the US via USPS Media Mail, allow 2-8 business days for delivery) *Please note that we only ship within the US!*
Buy Now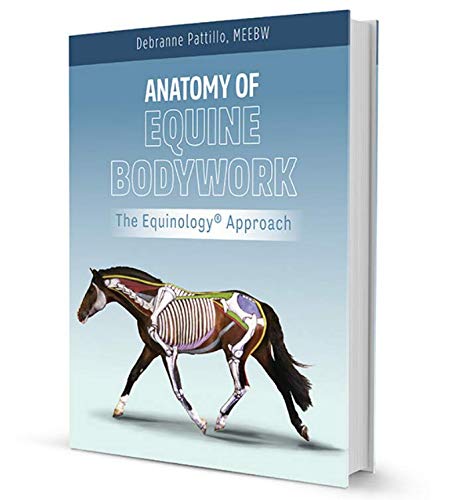 This is the required textbook for these courses:
EQ100 Equinology Equine Body Worker Certification
EQ103 Advanced Soft Tissue Techniques
EQ900 Anatomy Discovery Workshop
If you have registered for one of the above EquiLearn courses, the textbook is available at a reduced rate of $99 on the first day of class.  
Many books address anatomy, and many books discuss bodywork, but few combine both of these essentials at this level of expertise.
Anatomical illustrations and painted horses support this comprehensive book on equine bodywork. Detailed explanations of bodywork techniques cater to all levels of experience. Muscle origin, insertion, function, innervation, problems associated with the particular muscles and how they may manifest in movement, structure, and behavior are included in depth.
All aspects of care including an introduction to saddle fit, dentistry and the principles of rehabilitation are supported by leading veterinarians and specialists. Additional chapters including conformation, static and dynamic assessment, anatomy and physiology, movement and gaits make this 700+ page book a must have for any horse owner as well as those in the equine health care industry.
This book has been given a thumbs up by veterinarians and specialists devoted to the sport horse such as Dr. Kerry Ridgway, Dr. Claudia Sonders, Manolo Mendez, and numerous successful equine body workers and riders of various disciplines who understand what it takes to keep an athlete comfortable.
Anatomy & Physiology by Dr. Kalyani Premkumar, MBBS, MD, MSc (Med Ed), PhD.
Individual Sports & Riding Disciplines Issues by Debranne Pattillo, MEEBW
The Muscular System by Debranne Pattillo, MEEBW
The Skeletal System by Debranne Pattillo, MEEBW
Equine Movement & Understanding Gaits by Dr. Peter Flood, DVM with Debranne Pattillo
Surface Anatomy and Landmarks by Debranne Pattillo, MEEBW
Neurological Diseases by Dr. Nicole Rombach, APM, MEEBW, CCBW, MSc., PhD
And MUCH MORE!