EQ300-600:
Equine Biomechanics, Gait Abnormalities & Lameness
Date: 2023 Dates Coming Soon, Maryland
Cost: $1795
Duration: 4 days
Summary
*This course has been approved for 32 hours of continuing education credit in jurisdictions that recognize RACE approval.
When you step back to look at a horse or when you watch a horse move, do you ever wonder what you should be watching to objectively evaluate conformation, gaits and asymmetry? Do you know the common conformation faults and possible consequences of various defects? Do find yourself contemplating how the muscles, tendons, ligaments and bone produce movement? Can you name the footfalls of the common gaits? Even if you have some insight into a few of the questions, the progressive horse person can always use more.
This course is appropriate for owners, trainers, competitors, healthcare practitioners or farriers. The information is presented in a variety of approaches using specimens, live horses, slides, diagrams and high-speed video. Students will learn proper palpation techniques in order to place markers for bone measurement, joint angle, and inclination. The high-speed video will allow students to view horses in slow motion for an easier assessment. Discussions among the participants on how conformation, gait, and lameness relate to performance, physical and behavior issues are encouraged. The participants will be guided through the protocol of equine gait assessments on actual horses and learn how to diagram the footfalls of the horse.
On the final day, participants will do a work-up on horses requesting blocks and other imaging from the attending veterinarians. No matter how you are involved in the horse industry, don't miss this opportunity to improve your skills and build on your knowledge.
This class runs from 8:30am-5:00pm daily with 30 minutes for lunch and 2 hours of evening studies. 
Outline
Recognizing and Improving Your Eye for Gait Abnormalities
Gait Problem Solving and Discussion
Evaluating Posture in Response to Performance Issues
Noticing Common Patterns in Gait Deficits
Diagramming the Footfall of Gaits
Causes and Symptoms of the Lame Horse
Subjective Analysis of Conformation:
Limb Deviations, Rotations, and Determination of Symmetry
Basic Anatomy and Terminology
Preventing Lameness
Gait Analysis and Evaluation Guidelines
Locating Palpation Points
History of Biomechanics
Biomechanical Techniques
Measuring Horses
Prerequisites
This course is open to anyone with a good knowledge of veterinary vocabulary, anatomy and horse handling skills. Students new to the field are welcome to participate as long as they have good horse handling skills, but it is highly recommended that they first register for the EQ50 Equine Anatomy Precourse Distance Study.
*This course is required for the Equinology® Equine Body Worker Level III Certification.
Required Materials
Required Text:
None
Course Materials (included in tuition):
Course Workbook, Handouts & Supplies
Externship (included in tuition):
Externship Grading and Certificate
Instructor
Dr. Carrie Schlachter, VMD, DACVSMR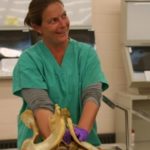 Dr. Carrie Schlachter's veterinary practice focuses on integrative sports medicine, rehabilitation and injury prevention. She founded and designed Circle Oak Equine Sports Medicine's rehabilitation and fitness programs and Animals In Motion (AIM) is a continuation of that quest for knowledge. AIM is a practice focusing on wellness and developing monitoring protocols for injury prevention.
Dr. Schlachter grew up riding horses in the competitive 'A' circuit on the East coast and has almost 35 years of experience with horses as a rider, veterinarian and owner. Educated at the University of Pennsylvania's Veterinary School and New Bolton Center, she received the Charles F. Reid Clinical Excellence Award for Sports Medicine and Imaging as well as numerous scholarships.  In 2016 she was awarded specialty board certification with the American College of Veterinary Sports Medicine and Rehabilitation and now serves on the ACVSMR's examination committee as well as the American Association of Equine Practitioners Scientific Review & Editorial committee.  Dr. Schlachter is also a Level 3 FEI Official delegate in jumpers and hopes to achieve the same in dressage during 2020.  She has officiated at 2 World Cups, the Central American Games and multiple 3* and above competitions worldwide.
In addition to her thriving veterinary practice, Dr. Schlachter teaches courses for veterinarians and equine professionals on various sports medicine subjects such as lameness, rehabilitation and ultrasound techniques worldwide.  She has, with her partners Dr. Nicole Rombach and Debranne Patillo, started the Academy of Animal Sport Science which offers an equine rehabilitation certificate program for licensed professionals and veterinarians.
Register
A $300 deposit is required to hold your spot in a course – the remainder of the tuition is due at least 30 days prior to the course start date. The $300 deposit is nonrefundable and nontransferable, and is credited to the total tuition for the course. Confirmation letters, course outlines, required pre-study (if applicable), directions and lodging options will be sent when the $300 deposit has been received.