CN3015:
Advanced Canine Bodywork & Massage Techniques
Cost: $760
Duration: 3 days
Summary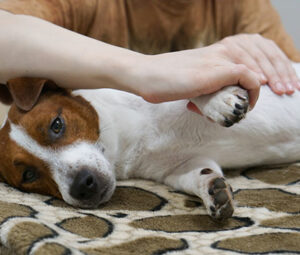 This 3-day course is designed for those who have already completed the CN3000 Canine Body Worker Certification course and have a strong anatomy background. Students learn advanced massage, bodywork and stretching techniques and continue with comprehensive anatomy.
The subject matter for this course is presented in a variety of mediums. The classroom lecture portions are followed by hands-on practice labs on the dogs. The labs vary depending on the topic and may be supported by templates, labeling sessions, gait analysis sessions, muscle and surface anatomy identification and practical hands-on massage experience.
After completing this course, the student will be able to
Perform 15 new massage and bodywork techniques for the dog
List new muscles within the canine system in addition to the muscles learned in the CN3000
Perform additional range of motion exercises and stretches for the head and cervical region
Perform additional range of motion exercises and stretches for the shoulder and thoracic limb
Perform additional stretches for the thoracic region
Perform additional range of motion exercises and stretches for the pelvic appendicular region
Create and write a follow-up exercise program for the dog
Outline
Advanced massage and bodywork application and techniques
Additional stretching for specific muscle groups
Supplemental range of motion exercises
Targeting sport and breed specific issues and concerns
Gait analysis guidelines
Conformation guideline
Locating palpation points for a conformation assessment
Causes and symptoms of the irregular gait
Subjective analysis of conformation: Limb deviations, rotations, and determination of symmetry
Basic anatomy and terminology
Preventing lameness
Stay Apparatus: structure, function, and palpation
Prerequisites
Students must first complete the CN3000 Canine Body Worker Certification course prior to moving on to this advanced course. Your externship for the foundation course does not need to be completed before attending.
Students that have attended other canine bodywork and massage programs of a comparable length to the CN3000 may contact the office to challenge this prerequisite.
Required Materials
Externship (included in tuition):
Externship Grading (Case Studies and Visual Presentations)
Instructor
Ken Bain, CMT
Ken is a Texas Licensed Massage Therapist and Massage Therapy Instructor, specializing in non-invasive trigger point therapy using massage techniques. He is a graduate of the Texas School of Massage, the Institute of Trigger Point Therapy, Pet Massage in Toledo,OH, and Massage Awareness in Wellington, FL. He is a member the International Association of Animal Massage and Bodywork and the Associated Bodywork and Massage Professionals.
After training and competing with canine athletes for over 15 years, Ken realized the importance of massage in keeping these athletes in peak condition. Ken has been providing bodywork for the canine athlete since 2003.
Register
A $300 deposit is required to hold your spot in a course – the remainder of the tuition is due at least 30 days prior to the course start date. The $300 deposit is nonrefundable and nontransferable, and is credited to the total tuition for the course. Confirmation letters, course outlines, required pre-study (if applicable), directions and lodging options will be sent when the $300 deposit has been received.