CN3010:
The Dynamic Dog: Biomechanics and Gait Abnormalities
Date: 2024 Dates TBD Maryland
Cost: $995
Duration: 4 days
Summary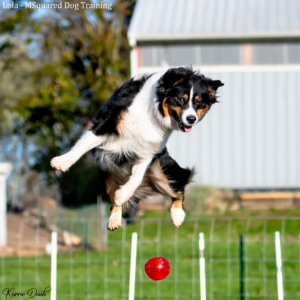 *This course has been approved for 30 hours of continuing education credit in jurisdictions that recognize RACE approval. It has also been approved by the CCPDT for (7) CEUs for Trainers and (14) CEUs for Behavior Consultants.
In this course, students will learn basic canine anatomy, palpation and range of motion skills, conformation evaluation, and static and movement analysis.  Understanding the structure and patterns of movement will enable students to visualize which joints, ligaments, tendons, and muscles are utilized during movement.   In addition, students will learn to recognize gait abnormalities and specific musculoskeletal abnormalities.
This subject matter for this course is presented in a variety of mediums. The classroom lecture portions are followed by hands-on lab practicals. The labs vary depending on the topic, and will be supported by templates, labeling sessions, gait analysis sessions, muscle and surface anatomy identification and practical hands-on experience.
After completing this course, the student will be able to:
Understand the footfall in all performed gaits
Employ gait diagramming
List common conformation faults
Locate surface anatomy to place markers for bone measurement, joint angle and inclination for conformation and gait assessment
Know the basic terminology used for biomechanics and canine locomotion
Know the history of canine biomechanics
List the structure and the function of the head and neck
Understand the protocol to analyze canine movement using high-speed cinematography
This class runs from 8:30am-5:00pm daily with 30 minutes for lunch and 2 hours of evening studies. 
Outline
Gait analysis and evaluation guideline
Conformation evaluation
Locating palpation points
Causes and symptoms of the lame dog
Subjective analysis of conformation: Limb deviations, rotations, and determination of symmetry
Basic anatomy and terminology
Preventing lameness
Defining and diagramming the basic gaits
History of biomechanics
Biomechanical techniques
High-Speed cinematography
Equipometry discussion
Measuring dogs
Structure, function and palpation of the forelimb
Structure, function and palpation of the hindlimb
Structure and function of the head and neck
Video problem solving and discussion
Sports analysis/video presentations & problem-solving for various disciplines
Required Materials
Required Text:
What's Your Angle by Helen Grinnell King
Externship (included in tuition):
Externship Grading (Case Studies and Visual Presentations)
Instructor
Dr. Mila Speciani,
Veterinarian, EEBW, CCBW, GPCert WVA & CPM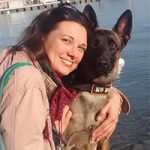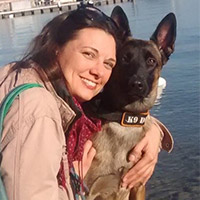 Dr. Speciani, a veterinarian and Equinology® Equine Body Worker, lives and works across Northern Italy running her freelance practice. The majority of her daily practice includes dogs and horses, and she integrates natural medicine, sports medicine, natural management, and gentle horsemanship, physiotherapy, and rehabilitation in order to provide health and wellness to animal athletes and companions.
Dr. Speciani graduated with full marks in 2006 from the University of Parma – Veterinary Medicine Department thanks to final graduation work on "Ultrasonographic evaluation of the thoracolumbar spine of the horse." She completed externships at Santa Lucia Farm, Alamo Pintado Equine Medical Center and San Marcos Equine Practice.  Dr. Speciani is certified by the Holistic School on Natural Horse Management and Natural Barefoot Trimming; Equine Physiotherapy, Preventive Physical Therapy and Rehabilitation, Ultrasound and PMF-Magnetic Field Therapy; and Equine Sport Medicine and TECAR® Therapy.
After three years of postgraduate school, Dr. Speciani graduated CUM LAUDE as Doctor Expert in Homeopathy, Homotoxicology, and Integrated Therapies. Her final dissertation earned the recognition of the Internationale Gesellschaft für Homotoxikologie (Baden Baden, Germany).
In 2013, Dr. Speciani completed an Equine Kinesio Taping course of studies and is certified by the Kinesio Taping Association International. In 2014, she enriched her knowledge of Myofascial Release by attending seminars and being further mentored by Ruth Mitchell-Golladay, a leader in animal MFR. She's now further specializing in Western Veterinary Acupuncture and Chronic Pain Management.
Dr. Speciani is an instructor and lecturer for world-renowned institutions, regularly teaches courses and seminars, and recently published peer-reviewed articles concerning her scientific areas of expertise.
Register
A $300 deposit is required to hold your spot in a course – the remainder of the tuition is due at least 30 days prior to the course start date. The $300 deposit is nonrefundable and nontransferable, and is credited to the total tuition for the course. Confirmation letters, course outlines, required pre-study (if applicable), directions and lodging options will be sent when the $300 deposit has been received.