EBER:
Evidence-Based Equine Rehabilitation
Date: Ongoing (Distance Learning)
Cost: $2295
Duration: 67+ hours
Summary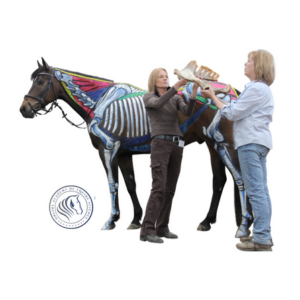 The unique online Evidence-Based Equine Rehabilitation course from the Academy of Animal Sport Science (AASS) is jam-packed with the latest information on all the key topics in equine sports therapy and rehabilitation. All 37 lectures in this RACE-approved course are presented by the world's leading specialists, with professional audio narrations, video materials, interactive self-quizzes and group discussions for each topic.
Study in your own time, from anywhere in the world, and learn from the best professionals in the field!
Course Duration:
This module takes 67 hours to complete all lectures in full, including the guided study and self-quizzes at the end of each lecture, as well as the final examination. Students have one year from the date of registration to complete all 37 lectures, guided study and accompanying self-quizzes. One month is allowed to complete the final exam, once this has been requested.
Educational Objectives:
Comprehend the parameters of animal rehabilitation and the surrounding regulatory issues
Create a comprehensive rehabilitation program for various conditions in the horse, utilizing reasonable time frames for appropriate treatments
Understand comparative anatomy between the horse, dog, and human
Discuss the various causes of equine lameness
Recognize differences between clinical and therapeutic approaches to neurological cases as compared to lameness cases
Understand equine conformation, and how this can relate to acquired lameness or performance issues
Recognize the need of the team approach in the care, examination and rehabilitation approach of the horse
Determine which cases and conditions are suitable candidates for rehabilitation therapy
Understand different therapeutic modalities, and choose the appropriate modality for each particular case
Create appropriate case intake forms for documentation
Understand the varied possible outcomes with specific rehabilitation procedures
Be familiar with emerging modalities in equine rehabilitation, and be able to discuss these with fellow professionals
Learn how to critically evaluate scientific literature and research manuscripts
Understand the causes of injury to tendons and ligaments, and the musculoskeletal system, as well as the healing process of these structures, and how to measure their response to therapeutic intervention.
Outline
Course Curriculum:
Equine Conformation for Performance
Equine Functional Anatomy & Biomechanics
Process of Disease/General Equine Pathologies
Equine Lameness Assessment
Diagnostic Imaging 1
Diagnostic Imaging 2
Tendon & Ligament Pathology
Osseous Pathology
Pathologies of the Equine Thoracic Limb
Pathologies of the Equine Pelvic Limb
Equine Physiology for Performance
Equine Clinical Pathophysiology
Muscle Pathology
Neurological Disease
Pain Pathways & Management
Clinical Reasoning/Rehabilitation for Equine Performance
Clinical Reasoning II/Rehabilitation Plan Development
Joint Management in Equine Rehabilitation
Limb Pathology Rehabilitation/Appendicular Pathology
Rehabilitation for Equine Spinal Dysfunction
Equine Spinal Assessment
Clinical Management of Spinal Dysfunction in Horses
The Equine Spinal Column/Spinal Functional Anatomy
Proprioception Facilitation in Equine Rehabilitation
Acupuncture for Equine Performance: Part 1
Acupuncture for Equine Performance: Part 2
Hydrotherapy
Electrotherapies
Equine Manual Therapies
Movement Retraining in Equine Rehabilitation
Equine Myofascial Release
Equine Regenerative Therapies
Equine Behavior & Welfare
The Horse/Rider Interaction & Clinical Effects
Effects of Saddle & Rider on Equine Performance
Equine Nutrition for Performance
Farrier Science in Equine Performance
Clinical Research Methods
Business Ethics & Legal Considerations
Business Marketing /How to Grow Your Business
Case History & Business Management
Functional Anatomy/Equine Anatomy from a Clinical Perspective
Final Examination
Prerequisites
This course is open to anyone interested in sport horse performance, including horse owners, trainers, veterinarians and those in the field of equine bodywork and healthcare.
Eligible licensed equine professionals can continue with the residential practical course (the longest in the industry!) and pursue the full AASS Animal Sports Therapy and Rehabilitation certification.  Applications from prospective participants who hold other qualifying degrees will be reviewed on an individual basis.
*Please note – legislation governing the application of complementary therapies in animal practice varies between different countries and states. Therapies may only be applied by qualified practitioners who are legally permitted to do so.
Required Materials
All materials included in tuition.
Instructor
More than (20) veterinarians and specialists, including:
Dr. Carrie Schlachter, VMD, DACVSMR
Debranne Pattillo, MEEBW, (hon) MSc
Dr. Nicole Rombach, MSc, PhD
Dr. Stephanie Valberg, DVM, PhD, DACVIM, ACVSMR
Dr. Anne Bondi, PhD
Dr. Dietrich Von Schweinitz, BSc, DVM, MRCVS
Dr. Clair Thunes, PhD
Dr. Sue Dyson, VetMB, PhD, DEO, FRCVS
Dr. Grant Miller, DVM
Whitney Hischier, MBA
Dr. Rachel Buchholz, DVM
Dr. Dagmar Berner, DrMedVet, Dipl. ECVDI, MRCVS
Dr. Barbara Crabbe, DVM
Dr. Emanuelle van Erck, MV, PhD, ECEIM
Dr. Mark Caldwell, PhD
Ruth Mitchell-Golladay, PT, CMT, NCBTMB, EEBW
Dr. Clara Fenger, DVM, PhD, DACVIM (LAIM)
Dr. Henry O'Neill, MVB, DVM, MS, Dipl ACVS, MRCVS
Dr. Melanie Perrier, DrMedVet, DACVS/DECVS, CERP
Dr. Camie Heleski, MS, PhD
Register
Please register for this course here (if prompted at checkout, please enter code 431bdc).