EQ75:
Equine Massage & Bodywork for Owners
Date: December 1st-3rd, 2023 Orlando, Florida
Cost: $595
Duration: 3 days
Summary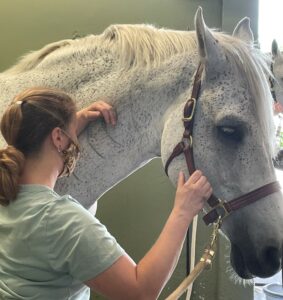 This 3-day course will teach you how to properly work on your horse using Equinology's guide to equine massage and bodywork. You will receive personalized instruction from experienced professionals utilizing a unique blend of equine sports massage, soft tissue release and stretching. The class is presented with loads of hands-on practical experience supplemented by video clips, multimedia presentations and bone specimens. Correct body mechanics and safe bodywork techniques are strongly emphasized throughout.
*You do not need your own horse for this class – all demo horses are provided!

Audience
This course is appropriate for a variety of individuals. Horse owners will benefit not only by learning the techniques, but by learning how to utilize bodywork as a regular assessment of their horse's condition. Trainers will find that these techniques will help horses in their care, especially as they advance in their training. Saddle fitters will be able to release some of the restrictions that alter a horse's posture, prior to fitting a saddle. Overall, the horse is the winner with improved health care, performance, comfort and communication.
This class runs from 8:30am-4:30pm daily with 30 minutes for lunch and has been approved for 21 CE hours through the NCBTMB.
Outline
Learning the techniques is not the only important aspect of equine bodywork. This course also covers:
Locating Surface Anatomy
Common Areas of Stress
Muscles Addressed During Session
Massage/Bodywork Techniques
Encouraging Communication & Interaction During Session
Stretching Techniques
Improving Your Eye for Gait and Conformation Assessment
Correct Body Mechanics
Differentiating Between Normal and Pain Responses
Prerequisites
Must be comfortable working around horses and picking up the limbs.
Required Materials
Required Materials (included in tuition):
Course Workbook
Barn Companion
Visual Presentation
Instructor
Courtney Molino,
RVT, EEBW, CERP, CCRA, FEI Permitted Equine Therapist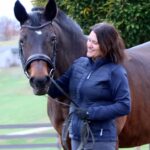 Courtney founded Hands on Horses in 2004 to promote the overall wellness of companion and competitive animals. A registered veterinary nurse, Courtney completed the equine rehabilitation program through the University of Tennessee and is trained in the skills necessary to design and implement a comprehensive rehabilitation program for a variety of musculoskeletal and neurologic conditions. She received her certification in equine bodywork from Equinology® and offers both sports massage and myofascial release services to help keep the equine body in peak physical condition. Prior to Equinology, Courtney studied equine science and anatomy at Virginia Tech. In 2018, Courtney was approved to become an FEI Permitted Equine Therapist.
In 2006, a division focusing on canine bodywork was added.  Courtney is certified in canine rehabilitation by the Canine Rehabilitation Institute.  For several years, she saw patients at the Veterinary Orthopedic & Sports Medicine Group, a practice specializing in canine orthopedic and neurologic surgery and rehabilitation.  At VOSM, Courtney worked with a wide variety of patients, from those on a maintenance bodywork program to those needing post-operative rehabilitation care or suffering from sport-specific muscle injuries.
Courtney is a frequent presenter of bodywork clinics and has been featured in numerous publications. Recently, she founded the EquiLearn Institute and is excited to bring the excellent Equinology and Caninology curriculum to the eastern United States.
Register
A $300 deposit is required to hold your spot in a course – the remainder of the tuition is due at least 30 days prior to the course start date. The $300 deposit is nonrefundable and nontransferable, and is credited to the total tuition for the course. Confirmation letters, course outlines, required pre-study (if applicable), directions and lodging options will be sent when the $300 deposit has been received.