EQ75:
Equine Massage & Bodywork for Owners & Trainers
Date: October 9th - 11th, 2020 Woodbine, Maryland
Cost: $595
Duration: 3 days
Summary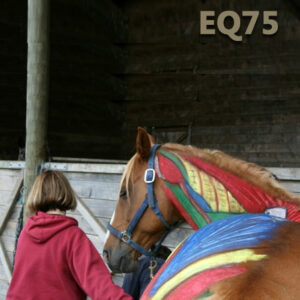 This 3-day course will teach you how to properly work on your horse using Equinology's guide to equine massage and bodywork. You will receive personalized instruction from experienced professionals utilizing a unique blend of equine sports massage, soft tissue release and stretching. The class is presented with loads of hands-on practical experience supplemented by video clips, multimedia presentations and bone specimens. Correct body mechanics and safe bodywork techniques are strongly emphasized throughout.

Audience
This course is appropriate for a variety of individuals. Horse owners will benefit not only by learning the techniques, but by learning how to utilize bodywork as a regular assessment of their horse's condition. Trainers will find that these techniques will help horses in their care, especially as they advance in their training. For those considering working professionally in the field of equine bodywork, it provides an in-depth overview as to what is really involved. Saddle fitters will be able to release some of the restrictions that alter a horse's posture, prior to fitting a saddle. Overall, the horse is the winner with improved health care, performance, comfort and communication.
Outline
Learning the techniques is not the only important aspect of equine bodywork. This course also covers:
Locating Surface Anatomy
Common Areas of Stress
Muscles Addressed During Session
Massage/Bodywork Techniques
Encouraging Communication & Interaction During Session
Stretching Techniques
Improving Your Eye for Gait and Conformation Assessment
Correct Body Mechanics
Differentiating Between Normal and Pain Responses
Prerequisites
Must be comfortable working around horses and picking up the limbs.
Required Materials
Required Materials (included in tuition):
Course Workbook
Barn Companion
Visual Presentation
Instructor
Debranne Pattillo, MEEBW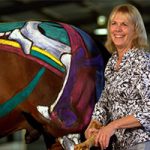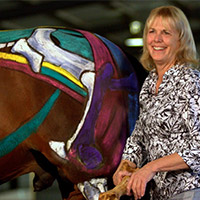 Debranne sees equine anatomy with the eyes of both a body worker and an artist. Her teaching is infused with her basic delight in both the anatomical precision that excellent bodywork requires and the dynamic variation that teaching anatomy on (mostly living, nibbling, opinionated) horses often presents. Her knack for seeing the bones and muscles with an artist's eye and her unique way of taking the body apart – from the skin down to the bones, and putting it back together again – is a perspective that fuels her work as a bodywork practitioner and makes her a much sought-after teacher. Her "Painted Horse," which has served as the backbone for presenting equine anatomy since Equinology started, was showcased in United Kingdom's BBC television program "Country File" in 2001.
Since 1994, Debranne has been the lead instructor for more than 200 equine sports massage and anatomy courses to more than 2,000 course participants in the US, Canada, UK, South Africa, New Zealand and Canada. She holds the Equinology® Master Equine Body Worker Certification and is the author and facilitator of the unique Equinology® Equine Body Worker Certification Course, which is the signature course for Equinology. This course serves as the professional qualification in the BSc in Equine Sports Therapy presented by Writtle Agricultural College and University of Essex, United Kingdom.
Debranne is also the co-founder and past Chair of the United States division of the International Equine Body Worker Association (IEBWA); a leading international association that aims to support and foster equine body work practices and ethics. She is currently the Division Head of the IEBWA for USA, Australia and New Zealand.
Register
A $300 deposit is required to hold your spot in a course – the remainder of the tuition is due at least 30 days prior to the course start date. The $300 deposit is nonrefundable and nontransferable, and is credited to the total tuition for the course. Confirmation letters, course outlines, required pre-study (if applicable), directions and lodging options will be sent when the $300 deposit has been received. Your registration is confirmed once we receive your signed enrollment form.