EQ1500:
Equine First Aid
Date: Ongoing (Distance Learning)
Cost: $95
Duration:
Summary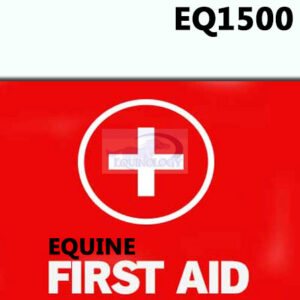 Whether you are an owner, rider, trainer, barn manager or bodyworker, it's important to understand basic equine first aid.
This comprehensive online course contains hundreds of photographs to help illustrate life-saving techniques, PDF files for writing your emergency plans and supply checklists for your emergency preparedness kits. Videos on specific bandaging techniques and information on the legalities of providing first aid care are being added to the course content.
*A portion of the proceeds from this course is donated to the AAEP Foundation. For more information about the American Association of Equine Practitioners (AAEP), click here.
Outline
How to prepare an emergency plan for your horse, family, home and barn.
How to perform a physical exam on your horse
Common equine medical emergencies
First aid care for the horse
Required Materials
Externship:
Once you have successfully completed the course, you can register for the externship to receive Equinology credit. It is completed at home to give you time to practice your new skills and ensure you understand the course content.
*This course is a requirement for the EEBWIII certification. It replaces the previous requirement, Horse Handling, Behavior and Ground Exercises for those working toward this certification.
Instructor
This is a self-guided online course – no instructor is assigned.
Register
Registration for this course is done through the main Equinology Institute website and may be accessed here.