EQ1120LP:
Equine Myofascial Release Techniques Levels I & II for Licensed Professionals
Date: If you are interested in this course, please contact us.
Cost: $1895
Duration:
Summary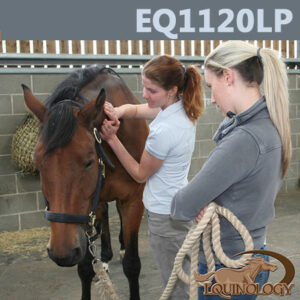 Geared toward veterinarians, chiropractors and physical therapists, this course covers a fundamental full body Myofascial Release assessment including static, dynamic, soft tissue, bony landmark and joint assessments as well as advanced techniques.
The program emphasizes effective techniques to address postural asymmetries, soft tissue limitations and tightness, orthopedic asymmetries, and movement disorders which are contributing to dysfunction in the equine body. Classes consist of lecture, video presentations, specimens, illustrations and hands-on techniques.
Course Objectives:
Identify common areas of myofascial restrictions in a horse's body and be able to compare these regions on a variety of horses
Understand the contraindications to Myofascial Release
Discuss the benefits of Myofascial Release with clients and be able to explain how it will help their horses
Utilize the Myofascial Release techniques and stretches presented in the course with confidence to work in the professional industry and make positive changes for their clients' horses
Design a suitable Myofascial Release session targeted for their clients' horses to help monitor health and condition as well as improve performance
Integrate the knowledge of evaluation and re-evaluation in order to determine the response from the horse in regards to the applied techniques to gain insight on whether they are defensive, sensitive or relaxing during the Myofascial Release
Learning Outcomes:
After completing the course the student will be able to:
Demonstrate a working knowledge of the anatomy, physiology, and pathology associated with the fascial tissue of the equine body
Demonstrate the ability to apply the foundation and advanced Myofascial Release techniques to the equine population
Identify myofascial restrictions and follow the myofascial releases throughout the equine body
Cite all the contraindications when myofascial release is not appropriate for the welfare of the horse
Apply Myofascial Release successfully
Utilize proper body mechanics to continue working without injury
Devise a follow-up exercise program for the horse to help break up adaptive movement, improve strength and monitor performance
Record the session findings in a professional manner utilizing the accepted protocol in the equine healthcare industry
Outline
Myofascial injury
Locating restrictions and developing/refining palpation skills
Causes of myofascial restrictions
Safety rules
Common areas of restriction
Encouraging communication and interaction during the session
Recognizing pain versus normal equine responses to Myofascial Release techniques
Scientific rationales of Myofascial Release with emerging theories
Benefits of Myofascial Release
Dynamic and static assessments and comparisons
History evaluation and Myofascial Release documentation
Prerequisites
This course is a licensed professional course for veterinarians, chiropractors and physical therapists who have worked specifically in the equine industry for at least one year.
Required Materials
Required Text:
Facilitated Healing Through Myofascial Release: Putting the Pieces Together for Horse and Rider
by Ruth Mitchell-Golladay $40 (onsite) or online.
Course Materials (included in tuition):
Course Workbook
Course Handouts
Externship (included in tuition):
Externship Grading (Case Studies and Visual Presentation)
Instructor
Ruth Mitchell-Golladay, PT, EEBW, CMT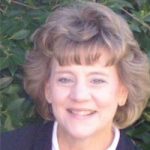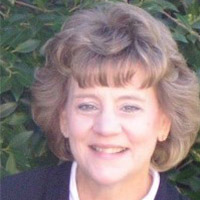 As a physical therapist, massage therapist, Equinology Equine Body Worker and lifetime animal lover, Ruth Mitchell-Golladay is able to combine knowledge and experience with love to care for animal populations.
Ruth received her graduate degree in physical therapy from The University of Iowa in 1972 and opened a private practice in Dallas in 1978. She then attended The Institute of Natural Healing Sciences in Colleyville, Texas in 1991 for her massage therapy training. She is Nationally Board Certified in Therapeutic Massage and Body Work and state licensed. Additionally, she obtained her Equinology Equine Body Worker certification in 2004.
Ruth began her Myofascial Release education in 1987. She has taken all the John Barnes MFR courses (including equine), and was a Senior Instructor/Coordinator, Co-lecturer and Primary Lecturer for John Barnes, teaching over 130 courses for him from 1988-2002. From 1999 until her resignation in June 2001, she was the Primary Lecturer for the Barnes Equine MFR courses.
In 1990, Ruth opened the Equine Therapeutic Center, where she provides therapy for horse and rider. She uses her biomechanical knowledge to assist in determining a problem and then primarily utilizes Myofascial Release to decrease the symptoms and/or dysfunction. In addition, she uses laser, electrical stimulation, ultrasound, Red Light Acupoint Therapy, essential oils and specialized taping techniques. She also includes stabilization and core exercises for the horse and rider.
Ruth started teaching for Equinology in 1999. She has taught Myofascial Release for horses at facilities in California, Virginia, Texas, Canada, England, Australia, New Zealand and South Africa. Additionally, she has taught the Equinology Equine Body Worker Certification Course in the United States, England, New Zealand, South Africa and Australia, Canine MFR in Canada and England, and human MFR in England.
Ruth has published two books – Facilitated Healing through Myofascial Release – Putting the Pieces Together for Horse and Rider and Canine Myofascial Release.
Register
A $300 deposit is required to hold your spot in a course – the remainder of the tuition is due at least 30 days prior to the course start date. The $300 deposit is nonrefundable and nontransferable, and is credited to the total tuition for the course. Confirmation letters, course outlines, required pre-study (if applicable), directions and lodging options will be sent when the $300 deposit has been received.