EQ106:
EEBW Review Course
Date: September 13th - 15th, 2024 Woodbine, Maryland
Cost: $895
Duration: 3 days
Summary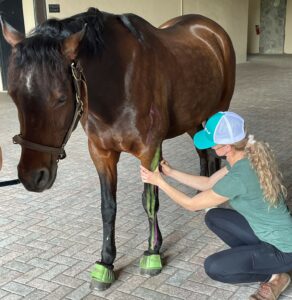 We have added this 3-day Equinology Equine Body Worker ® Review Course to fulfill the needs of various students and graduates. If one of the questions below applies to you, this is the course you have been waiting to attend!
Has your externship gotten away from you?
Have you used up all your extensions?
Do you want a brush up before submitting your EEBW externship?
Did you take the courses ages ago and want to see the new stuff?
Former EEBW students who did not complete their externship are reinstated and have 4 months to submit the completed work.
This class runs from 8:00am-4:30pm with 30 minutes for lunch and 3 hours of evening studies.
Outline
What do we have planned?
Review the entire routine and clean up your techniques
Review the 90-point locations
Improve your palpation skills
Review your anatomical identifications
Complete an entire label session which you can use for your externship!
Complete the in-hand portion of the gait analysis – check another box done for the externship!
Fine tune your skills, get feedback and learn a few more tricks of the trade!
Former EEBW students who did not complete their externship are reinstated and have 4 months to submit the completed work.
Prerequisites
Only students from our EQ100: Equinology® Equine Body Worker Certification Course are allowed in this course. No exceptions. Please note that students may only take this review class one time. If the student still does not complete the externship within the timeframe and still wishes to become certified, the student is required to retake the EQ100 course.
Required Materials
Required Course Texts:
Anatomy of Equine Bodywork: The Equinology® Approach by Debranne Pattillo, MEEBW. If you attended 2015-2018 you can also bring your manual from that course instead. The text will be available at the course for $99USD for students who need one.
The EEBW Routine Notes and Workbook by Debranne Pattillo. Must be 2015 or later. Please let us know if you need a new one. $60USD available at the course.
Course Handouts and Business Documents: Free
Course Externship Support Group: Free
Course Audio: Free
Certificate of Attendance for Continuing Education Documentation: Free
Instructor
Courtney Molino,
RVT, EEBW, CERP, CCRA, FEI Permitted Equine Therapist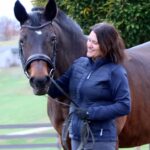 Courtney founded Hands on Horses in 2004 to promote the overall wellness of companion and competitive animals. A registered veterinary nurse, Courtney completed the equine rehabilitation program through the University of Tennessee and is trained in the skills necessary to design and implement a comprehensive rehabilitation program for a variety of musculoskeletal and neurologic conditions. She received her certification in equine bodywork from Equinology® and offers both sports massage and myofascial release services to help keep the equine body in peak physical condition. Prior to Equinology, Courtney studied equine science and anatomy at Virginia Tech. In 2018, Courtney was approved to become an FEI Permitted Equine Therapist.
In 2006, a division focusing on canine bodywork was added.  Courtney is certified in canine rehabilitation by the Canine Rehabilitation Institute.  For several years, she saw patients at the Veterinary Orthopedic & Sports Medicine Group, a practice specializing in canine orthopedic and neurologic surgery and rehabilitation.  At VOSM, Courtney worked with a wide variety of patients, from those on a maintenance bodywork program to those needing post-operative rehabilitation care or suffering from sport-specific muscle injuries.
Courtney is a frequent presenter of bodywork clinics and has been featured in numerous publications. Recently, she founded the EquiLearn Institute and is excited to bring the excellent Equinology and Caninology curriculum to the eastern United States.
Register
A $300 deposit is required to hold your spot in a course – the remainder of the tuition is due at least 30 days prior to the course start date. The $300 deposit is nonrefundable and nontransferable, and is credited to the total tuition for the course. Confirmation letters, course outlines, required pre-study (if applicable), directions and lodging options will be sent when the $300 deposit has been received.