EQ100LP:
Equinology Equine Body Worker Certification Course for Licensed Professionals
Date: If you are interested in this course, please contact us.
Cost: $1795
Duration: 5 days
Summary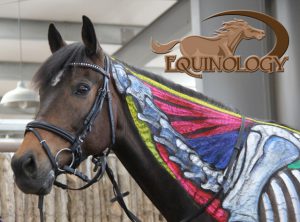 This course is designed for those licensed professionals (LP) wishing to add soft tissue work to their existing practice. The course will provide the entire massage and bodywork session presented in our Equinology Equine Body Worker (EEBW) certification courses. We have streamlined the course content since those already working as licensed equine healthcare professionals should have a deep understanding of the musculoskeletal system, evaluation and assessment of muscle and structure, as well as gait analysis. Although we review these topics in the course, we do not go into the same detail as in the regular foundation EEBW course.
Students attend class daily 8-5:30 for 5 days and have additional 2-3 hours of review every evening. Participants must attend every day of the onsite course; missing any portion will disrupt the delivery of the course.
After completing the workshop and required externship, the student will be able to assess posture and movement and apply a complete session confidently. To acquire the EEBW Certification, participants are required to complete the externship. For this particular course, there's an additional 60 hours of guided study once the student leaves the class. This is completed at home. Participants complete 20 sessions on at least 5 different horses using all of the techniques taught in the class and submit a visual presentation of their session for review.
Outline
Skeletal Structure:
Thoracic appendicular system
Pelvic appendicular system
Axial skeletal system
Bony landmark identification
Palpation skills
Muscle Structure:
Intrinsic Muscles
Extrinsic Muscles
Palpation skills
Locating and isolating muscles
Injury
Deep muscles
Middle muscles
Superficial muscles
Injuries caused by specific activities
Massage and Bodywork:
Safety rules
Basic Strokes
Full massage and bodywork session
80+point locations
Issues associated with positive points
Contraindications
Body Mechanics
Exercises following the session
Stretches for the session
Assessment:
History evaluation
Documentation
Subjective conformation and gait evaluation
Introduction to saddle assessment
Prerequisites
To enroll in this course, you must be one of the licensed professionals listed below. All individuals must have at least 1 year of experience working with horses and be confident in veterinary anatomy and vocabulary. Participants must be confident in assessing gaits and lameness and have a full understanding of evaluation of conformation and symmetry of muscles and structures, as well as have a comprehension of the muscles and surface anatomy. (If you feel you need a refresher, you may sign up for the EQ50 Equine Anatomy Distance Study prior to attending this course.)
Doctor of Veterinary Medicine:
Proof of degree must be provided upon registration.  Also, all other prerequisites must be met.
Doctor of Chiropractic:
Proof of degree must be provided upon registration. Two (2) letters of recommendation from equine veterinarians are required to support registration for this course. Also, all other prerequisites must be met.
Doctor of Osteopathy:
Proof of degree must be provided upon registration. Two (2) letters of recommendation from equine veterinarians are required to support registration for this course. Also, all other prerequisites must be met.
Required Materials
Required Text:
Anatomy of Equine Bodywork: The Equinology® Approach
by Debranne Pattillo, MEEBW
$99 if purchased onsite, or can be purchased here.
Course Materials (included in tuition):
Course Workbook
Course Handouts and Business Documents
Course Externship Support Group
Course Audio
Externship (included in tuition):
Externship Grading (Case Studies and Visual Presentation) and Certificate
Instructor
Debranne Pattillo, MEEBW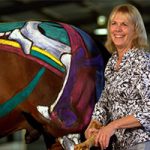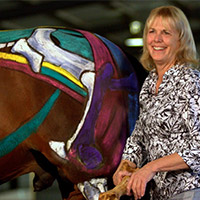 Debranne sees equine anatomy with the eyes of both a body worker and an artist. Her teaching is infused with her basic delight in both the anatomical precision that excellent bodywork requires and the dynamic variation that teaching anatomy on (mostly living, nibbling, opinionated) horses often presents. Her knack for seeing the bones and muscles with an artist's eye and her unique way of taking the body apart – from the skin down to the bones, and putting it back together again – is a perspective that fuels her work as a bodywork practitioner and makes her a much sought-after teacher. Her "Painted Horse," which has served as the backbone for presenting equine anatomy since Equinology started, was showcased in United Kingdom's BBC television program "Country File" in 2001.
Since 1994, Debranne has been the lead instructor for more than 200 equine sports massage and anatomy courses to more than 2,000 course participants in the US, Canada, UK, South Africa, New Zealand and Canada. She holds the Equinology® Master Equine Body Worker Certification and is the author and facilitator of the unique Equinology® Equine Body Worker Certification Course, which is the signature course for Equinology. This course serves as the professional qualification in the BSc in Equine Sports Therapy presented by Writtle Agricultural College and University of Essex, United Kingdom.
Debranne is also the co-founder and past Chair of the United States division of the International Equine Body Worker Association (IEBWA); a leading international association that aims to support and foster equine body work practices and ethics. She is currently the Division Head of the IEBWA for USA, Australia and New Zealand.
Register
A $300 deposit is required to hold your spot in a course – the remainder of the tuition is due at least 30 days prior to the course start date. The $300 deposit is nonrefundable and nontransferable, and is credited to the total tuition for the course. Confirmation letters, course outlines, required pre-study (if applicable), directions and lodging options will be sent when the $300 deposit has been received.