CN3000:
Caninology® Canine Body Worker Certification Course
Date: July 24th - August 1st, 2024 Fort Collins, Colorado
Cost: $2495
Duration: 9 days
Summary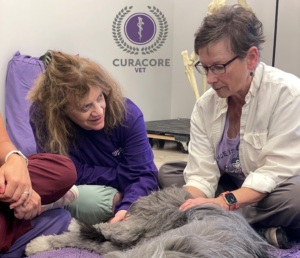 *This course has been approved for 64 hours of continuing education credit in jurisdictions that recognize RACE approval.
In this course, participants will learn massage techniques, range of motion exercises, dog handling skills, and gentle stretching techniques in addition to learning conformation assessment and gait analysis. These skills are essential if you plan to work as part of the canine healthcare team. A mixture of class lectures with plenty of hands-on practice time ensures your quality education with the proper supervision to learn the modalities properly.
Like our popular equine course, this canine version is specifically designed for those participants wishing to pursue a career in this field, but it is also targeted and formatted for veterinarians, physical therapists, human massage therapists,  trainers and chiropractors who would like to enhance their skills. The course is taught in such a comprehensive logical layered format that those with little or no complementary canine science background will find themselves quickly up to speed with the other professional participants.
Externship:
There's an additional 100 hours of guided study once the student leaves the class. Participants complete 20 massage sessions on at least 5 different dogs using all of the massage techniques and stretching exercises as well as the documenting techniques taught in the class. There is also a home study portion on muscle function, muscle identification, point location and gait assessment required to enhance the material that is taught and presented in the class. Once this is completed a video is sent by the student to EquiLearn to review, evaluate and expand the student's work.
This is an intense course. Students attend class daily from 8:30am-5:00pm and have an additional 3 hours of evening studies. Day 5 is spent out-of-class for independent study.
Outline
Vocabulary:
Anatomy vocabulary
Directional terms
Veterinary terms
Skeletal structure:
Form and function
Thoracic appendicular system
Pelvic appendicular system
Axial skeletal system
Conformation
Typical canine orthopedic conditions
Injury
Surface anatomy landmark identification
Palpation skills
Muscle structure:
Function and form
Palpation & rudimentary evaluation skills
Locating and isolating muscles
Injury
Deep muscles
Superficial muscles
Cause of muscle damage
Causes of various problems
Massage and Bodywork:
Safety rules
Basic strokes
Theory and application of the massage strokes
Contraindications
Body mechanics for the worker
Follow-up exercises
Gentle stretches
Handling during the session
Assessment:
History
Documentation
Creating documents for the owners
Gait abnormalities
Subjective conformation
Typical neurological canine conditions
Canine behavior
Handling skills
Gait analysis
Range of motion analysis and exercises
Business:
Marketing
Work ethics
Veterinary ethics
Creating forms
Prerequisites
You must be registered for the CN3005 Canine Anatomy and Behavior Distance Study course prior to signing up for the CN3000. We expect students to spend at least 100 hours reviewing the content, as a knowledge of directional terms, veterinary vocabulary and anatomy is required.
While the final exam for the CN3005 does not need to be finished before attending the CN3000, it must be completed before the Caninology® Canine Body Worker certificate is released.
If you have a thorough understanding of this material (especially those professionals already in the healthcare industry such as veterinarians), please contact the office to clear this prerequisite.
Required Materials
Required Text:


Course Materials (included in tuition):
Course Workbook
Course Handouts
Externship (included in tuition):
Externship Grading (Case Studies and Visual Presentations)
Register
A $300 deposit is required to hold your spot in a course – the remainder of the tuition is due at least 30 days prior to the course start date. The $300 deposit is nonrefundable and nontransferable, and is credited to the total tuition for the course. Confirmation letters, course outlines, required pre-study (if applicable), directions and lodging options will be sent when the $300 deposit has been received.